Stunning Designs.
Affordably Priced.
All Inclusive.
Beautiful escort websites crafted with love and incredible creativity...your clients will be impressed.
Have you set up your official website yet? Directory ads can only do so much. Or perhaps your free website is looking out of date and you need something more?
If you choose to invest in your brand identity, a stunning professional website will showcase you as an elite escort who chooses her clients, not the other way around. We offer classy and affordable website designs with everything you need to boost your escort brand.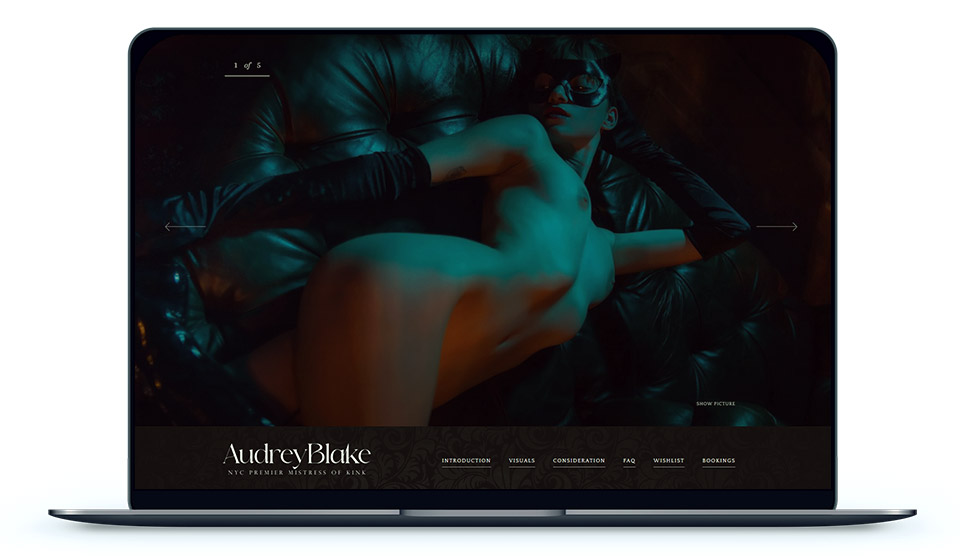 Whether you are an established companion or just starting out, you will find our beautiful templates offer unprecedented value for the boost to your branding. Not sure where to start? Just ask us! In the meantime, here is a detailed list of features under our acclaimed fully managed service.
templates
Stunning & Unique Designs
We channel our creativity to our professionally designed templates. We don't just change a few things here and there – each one is truly unique! You will have trouble deciding because they are all that good.
Bespoke
Manage Your Content Easily
Our premium websites are integrated with our awesome ParamourPages admin backend. Fully functional yet very user-friendly, updating your website is actually fun to do!
Agencies
Unlimited Web Hosting
Your website is hosted with unlimited disk space usage and unlimited bandwidth on a yearly basis, so just keep spreading the word and get visitors to your website!
Calendar
Tours &
Schedules
Display your availability and touring schedule to clients in a powerful yet easy to use drag and drop calendar. Keep it simple, or be as detailed as you want to be!
Disclaimer
Content Disclaimer
For many countries, an age/adult content disclaimer is important for legal reasons. Our disclaimer box is classy, unobtrusive, and you can enable, disable or edit your message easily.
Analytics
Analyze Visitor Traffic
Analyze visitor statistics to track your website performance in real-time. These figures give you an unique insight into your visitor demographics, and what they are viewing on your site (requires Google Analytics).
Albums
Versatile Photo Galleries
Looking to organise your photos into various themes? Create new albums and reorder your images as you like, through an intuitive interface.
SEO
Edit Meta Site Tags
Meta tags have a big effect on your search engine rankings, and we give you complete control to craft your meta tags to suit your SEO goals.
Email
Personal Domain Email
Prefer not to use the usual free email providers? We can help set up your personal domain email address, adding extra professionalism to your business.
Domain
Private Domain Name
Not only do we help register your personal domain name, privacy protection is also included for your domain. Additionally, we can help to register offshore extensions such as .nl, .me, .co, for additional security.
Offshore
European Offshore Hosting
Concerned about your country's legislation? Our sites are hosted on offshore European servers (Netherlands). The Paramour team is also based in Australia. We help to keep your data safe from unfriendly laws.
Security
Keeping Your Site Secure
Discourage unscrupulous people from stealing your content – with the ability to disable right clicking, disable text selection, and saving of images from your site. Need an emergency shutdown? Just say the word.
Extras
Additional Pages & Sections
Need more pages to showcase yourself? It never hurts to get more attention. We are always flexible and ready to help, so if you need some extra space, just let us know!
Customize
Additional Customization
Stand out further with extra customisations – e.g. colour schemes, your personal logo, advertising banners, professional copywriting, custom designs, etc. Chances are, we know how to do it.
Support
Legendary Support
We treat every customer with respect and priority. Our staff members answer all emails promptly and provide both technical support and general advice to help you grow your escort business.